"The Firebird" Illustrations for a Concert
I had the honor of designing the projections for a concert by the Mozarteumorchester Salzburg. Stravinsky's Firebird Suite (1945) was performed, conducted by the spanish conductor Julio García Vico. The series of pictures I created leads the audience through the Russian fairy tale of the firebird. In addition to illustrating, I animated the series of images to bring the magical fairy tale world to life. The concert took place on October 6th, 2022 in the Orchesterhaus Salzburg.
The fairy tale of the firebird
Once upon a time there was a prince named Iwan Zarewitsch. One day Iwan went hunting and suddenly the magical firebird appeared! Iwan wanted to catch this creature. Once he caught the firebird, it made the prince an offer: Iwan would let him go in exchange for a magic feather. Iwan could then use this feather to summon the firebird should he ever need its help.
When the firebird was gone, Iwan noticed that he was no longer in the forest. He had lost his way and landed in the magic garden of the evil magician Koschei. And he wasn't alone – this is where the evil wizard kept princesses captive. When Iwan saw Princess Zarewna, it was love at first sight. He knew he had to free the princess. Together they decided to escape the wizard and travel back to Iwan's kingdom.
But suddenly the evil magician Koschei came out of his castle with terrifying demons. They ran towards Iwan in anger! Iwan quickly drew his magic feather and called the firebird for help.
The firebird appeared out of nowhere and sang a magical song. The music forced the wizard and his demons to dance! They danced and danced until their strength left them. Exhausted, the demons and the evil wizard Koschei fell into a deep, peaceful sleep.
While all the evil creatures slept, the firebird lead Iwan to a wondrous egg. This egg contained all the magic power of the evil wizard. With one swing of his sword, Iwan smashed the egg and the evil sorcerer Koschei and all his demons vanished into thin air.
Finally the imprisoned princesses were free again! Iwan and his princess Zarewna took each other's hands and they traveled back to his kingdom. And they lived happily everafter.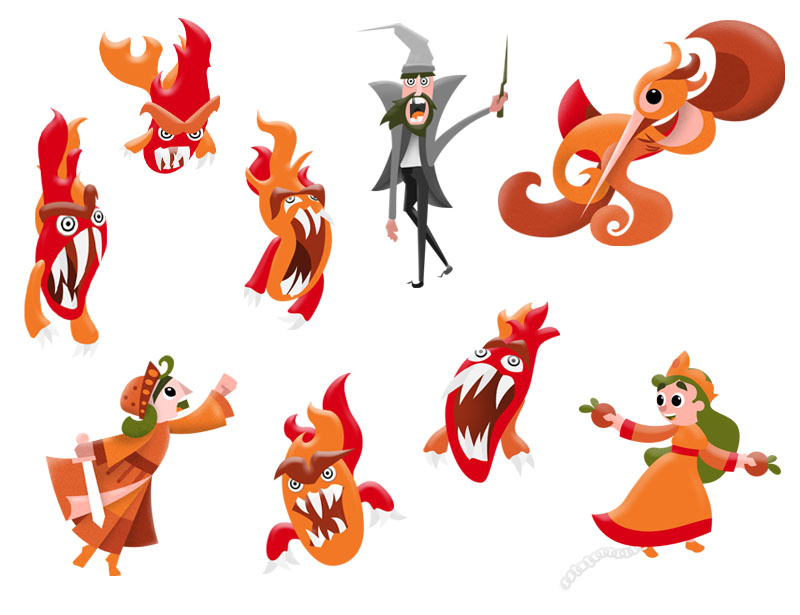 From fairy tale to ballet to suite
"The Firebird" is originally a Russian fairy tale. Strawinsky composed a ballet from it, which was later shortened and is often played as a suite by orchestras. The 1945 version was selected by the Mozarteum Orchestra for its concert. My series of pictures followed the individual pieces of the suite and was played to the music. Since tempo and pauses influence the length of the pieces, a continuous video could not be created. So I played the series of pictures live at the concert.